Summary
Once you have logged in with your username and password (the same information you use to login to the campus computers) you see the landing page which is a "Summary" of your PaperCut Account.  The summary page displays your balance, number of print jobs, and balance history.  You can also view the environmental impact of your print jobs.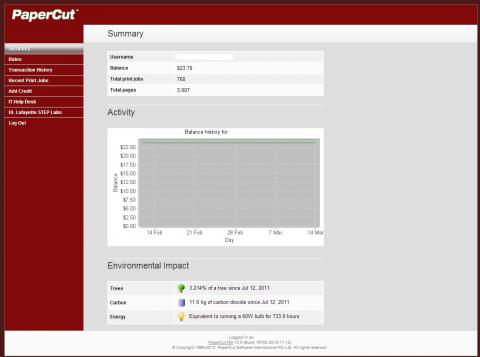 Rates
You can view the current rates for each printer you are authorized to use. All STEP lab printers are currently set to $0.10 per sheet of paper.  Printers with a duplexing feature have a discount for printing duplex.  When you print duplex, you are charged per sheet of paper, not for each imprint.



Transaction History
This page allows you to see all debits and credits made to your PaperCut account.


Recent Print Jobs
This page allows you to see all print jobs charged to your account.

Add Credit
You can add additional credit to your PaperCut account here. The only authorized form of payment for PaperCut is currently Cajun Cash. Any money transferred to your PaperCut account is nonrefundable. Learn more on our Adding Credit to Papercut page.
 
Log Out
Don't forget to log out! You don't want someone else to access your PaperCut account.