One on One Video Chat using Microsoft Teams
You Faculty, Staff and Students you need to have one on one converasation with their students or coworkers you can do that using Teams Chat. The University does not have a Unversity license for Zoom. Some academic departments use it but if you need a way to video chat, Teams Chat is the proper way to video chat. You can use this page for instruction on just how to do that. We have a Microsoft Team Page with options and Tutorials as well. 
Using Teams Chat for Video Converstion using a PC or Mac
If you have a PC, Liinux Desktop or Mac you can install the Teams Client by going here: https://teams.microsoft.com/download (If you have a Campus PC you may already have Teams installed).
Once installed log in using your ULID@louisiana.edu (example would be c00123456@louisiana.edu)
Look for the Chat icon at the top left of the Screen:
Once you click Chat you should see a list of chats... Click this icon to initiate a new chat:

Once you click that Chat Icon you can type in the name of the student, facuilty or staff member you want to chat with and then type your message at the bottom:
Once you hit enter and get a resonse, you can click the Icon at the top right to Either Video or Audio call:
Click Video Chat button and it will ring on their, Computer, iPhone or Android device (Anywhere they have Teams installed and they are logged in):
If the Faculty, Staff or Student in on their phone (Teams app is installed logged in) then the phone will ring and start the chat:
| Image of iPhone receiving Call or Chat | Image of PC receiving Call or Chat |
| --- | --- |
| | |
---
Once they have accepted the call you should be able to converse. Here is a call in session with a student:
If you tap the screen you will see this bar:

Click Video to Enable Video, Audio to Enable Audio and the Red Hangup button to Hang up... if you tap the "..." you will see these options: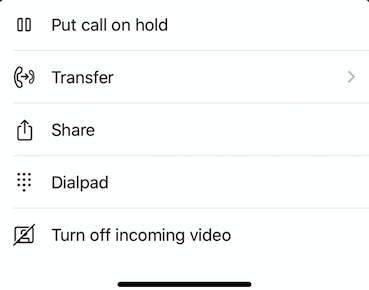 Can I do a Video Chat or Call with Multiple users?
Yes, when you add the users name to the chat at the top, go ahead and add multiple people and send a message. Click Video like we mentioned before and if they answer then they will be on the group video chat. 
Hit the RED Hang button when you are done. That Chat has been completed! This will work with anyone with a ULID. But again they need Teams installed and logged in on SOME Device.
For furthur Question please email ithelp@louisiana.edu or call 337-482-HELP. Feel free to come by the IT Service Desk during normal business hours