Students
You're a Ragin' Cajun and you represent the Ragin' Cajun spirit. You depend on technology to help you get things done. We've created this page to help you get plugged into the services and support at the University so you can perform at your peak.
Get Connected
Accounts & Passwords
GeauxWiFi & Campus Network
Get Services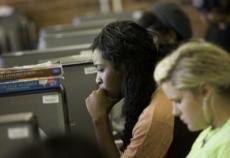 Personal Software
Get Help
Online Help Forms
Call
Off-campus 337-482- HELP (4357)
On-campus 2HELP (4357)
We are available 24 hours a day, 7 days a week by phone.
Email
In Person
Stephens Hall Room 110
Mon - Thurs 7:30- 5:00
Fri 7:30- 12:30